Tomatoes with beret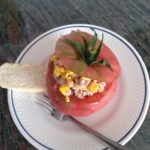 Tomatoes with beret
By
Administrador
2019/08/07
Ana Isabel participates in our I Recipe Contest for kids with appetizing stuffed tomatoes wearing a "beret". A simple and fresh recipe in which children can collaborate, both emptying the tomatoes with a spoon and filling them afterwards.
Ingredients
Instructions
Wash the tomatoes and cut off the top.
Empty them with a spoon.
Prepare the filling by mixing the chopped cooked eggs, the sweet corn, the shredded White Tuna and the tomato pulp.
Dress the mixture with oil, salt and vinegar (you can also add mayonnaise).
Fill the tomatoes with the mixture.
Place the "beret" on top and serve with a slice of bread.
Simple and refreshing. Thanks Ana Isabel!
---
Featured Product
White Tuna in olive oil 150 g
If you like this recipe, you can make it at home with the White Tuna available in our online store.
[button url="https://www.serrats.com/en/white-tuna-albacore-olive-oil-typical-120g" color="color" customcolor="" iconcolor="white" target="_blank" custom_class="" ]Buy[/button]
The post Tomatoes with beret appeared first on Cooking With Serrats.